Think Pink Europe Innovation Award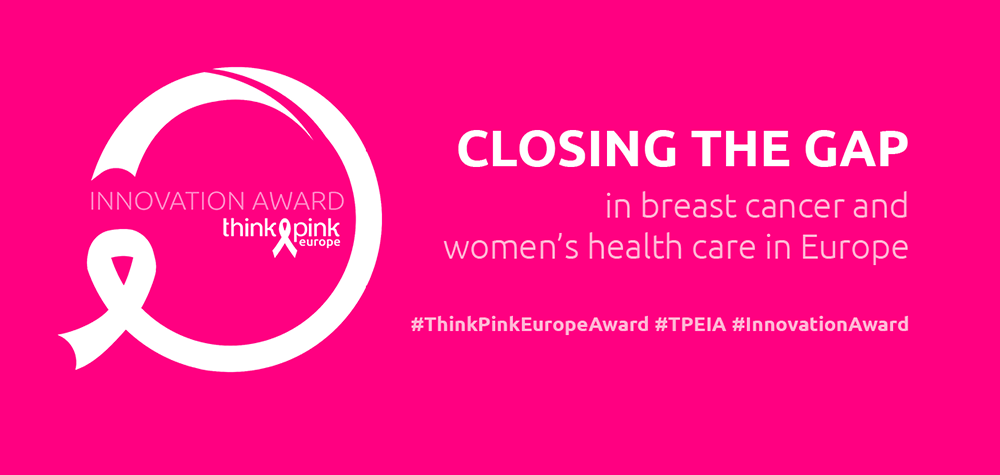 More Than Pink Awards become European. Thanks to the opportunity to share best practices with the breast cancer organizations members of "Think Pink Europe" coalition, in 2019 partners will promote the "Think Pink Europe Innovation Award" to stimulate collaboration between different countries and to promote fast-moving development of new projects and smart ideas.
The aim is to promote the development and implementation of innovative practices in the field of women's health at the European level, identifying and enhancing new ideas and projects focused on reducing disparities in the access to quality healthcare and closing the gap between European countries with regard to the following calls:
The best selected idea will receive an economic contribution from Think Pink Europe and the possibility to be supported by a special team of mentors and coaches to develop their business idea.
For the best idea not yet in the market, that has many chances to succeed in the future thanks to the support of Think Pink Europe.
Christiana Mitsi
Scientific Director, Hellenic Association of Women with Breast Cancer
Jürgen Vanpraet
Managing Director, Think Pink Europe
Kalina Mihaylova
Attorney at law, CancerCare.bg
Marius Geanta
President, Center for Innovation in Medicine
Mary Todadze
Marketing/Development Manager, Women Wellness Care Alliance HERA
Mihaela Geoana
President, Fundatia Renasterea
Nela Hasic
Executive Director, Think Pink - Zajedno smo jedno
Pietro Presti
Managing Director, Edo ed Elvo Tempia Foundation
Riccardo Masetti
Director Breast Cancer Center, Fond. Policlinico Universitario A. Gemelle IRCSS & President Susan G. Komen Italy
Leo Cisotta
President Ass. ItaliaCamp
CINDERELLA
Country: Portugal
The side effects of breast cancer treatment remain a serious problem for women who undergo surgery, in fact, although breast cancer surgery has improved, still in 30% of cases the aesthetic results are poor. Aesthetic results are important not only because of its role in breast cancer patients, but also because it can measure performance in breast units. However, there is no reproducible and easy method for this assessment. The main reasons are the lack of information of patients about the aesthetic outcome and also the influence of personal factors. The goal of Cinderella is to create a better tool for aesthetic evaluation, through the correct information and preparation of the patient.
PINKTRAINER
Country: Netherlands
An E-health application for a holistic approach of exercise, nutrition and motivational support for (ex)cancer patients before, during or after treatment. Pinktrainer consists of a dashboard with user positions for the medical team, physical therapist, dietitian and other care professionals that are needed for optimal support and of a smartphone app for patients. The application has a broad spectrum of integrated tools, such as tests, measurements and patients' feedbacks to make optimally personalized programs. All programs can be tailored to the specific treatment stage and patient context. Every program can be tracked in detail by selecting report options.
PLUSIMPLE
Country: Italy
Plusimple is the web and mobile platform aimed to connect patients and health stakeholders to engage and improve communication. Plusimple connects the entire healthcare ecosystem on a single clinical network, empowering providers, patients, patient's associations and health facilities to engage and communicate seamlessly and securely. Healthcare's patients experience is broken. Patients want to choose for options and value a convenient, complete and frictionless interaction. Furthermore, bad and fragmented communication in Healthcare is the first cost, generating bad outcomes and losses of data and furthers costs.
ROSE: Rising the Oncology patients Survival among European countries
Country: Bulgaria
A software uniting patients, doctors and researchers in a common online platform. Patients, included in a breast cancer biobank, will have a profile, containing their oncological history data, and their treatment diary, containing treatment and follow up schedules and personalized information for dietary and activity regimes. Doctors will control the data content, and can evaluate the patient's activities, filled in the diary. Researchers will have access to anonymous information, regarding the available samples and related clinical data. The establishment of this platform will improve patient's compliance to treatment, awareness and communication with the doctors and long-term outcomes.
NEMO – Training and Cancer
Country: Italy
NEMO is a no profit association firstly aimed to improve breast cancer women's quality of life by using physical exercise, that is known to reduce cancer symptoms and side effects of therapies as well as improve their effectiveness and increase survivorship. However, adapted exercise for breast cancer is not completely accessible yet for several reasons. The objective is to achieve our aim by offering accessible outdoor exercise training for breast cancer women led by specialized exercise cancer trainers and organizing courses specifically focused on physical activity for breast cancer in order to increase the number of Italian specialized cancer trainers.
04.11.2019
Start!
04.11.2019
Publication of the call for proposals
12.01.2020
End of Calls
12.01.2020
Deadline to submit project proposals
04.02.2020
...And the winner is
04.02.2020
Announcement of the shortlisted projects
07-08.03.2020
Hackathon in Brussels and Award Ceremony
07-08.03.2020
Venue: Hotel Van der Valk Brussels Airport - Brussels, Belgium
The Brussels Hackathon is a 24h event in which the 5 selected best projects will have the opportunity to improve, develop and make functional their innovative idea with the special support of experts and dedicated mentors specialized in the field.