The social inclusion and regeneration project supported by the Fondazione CON IL SUD and Italiacamp and implemented with the Municipality of Lecce, The Qube and the Galilei-Costa-Scarambone Secondary Education Institute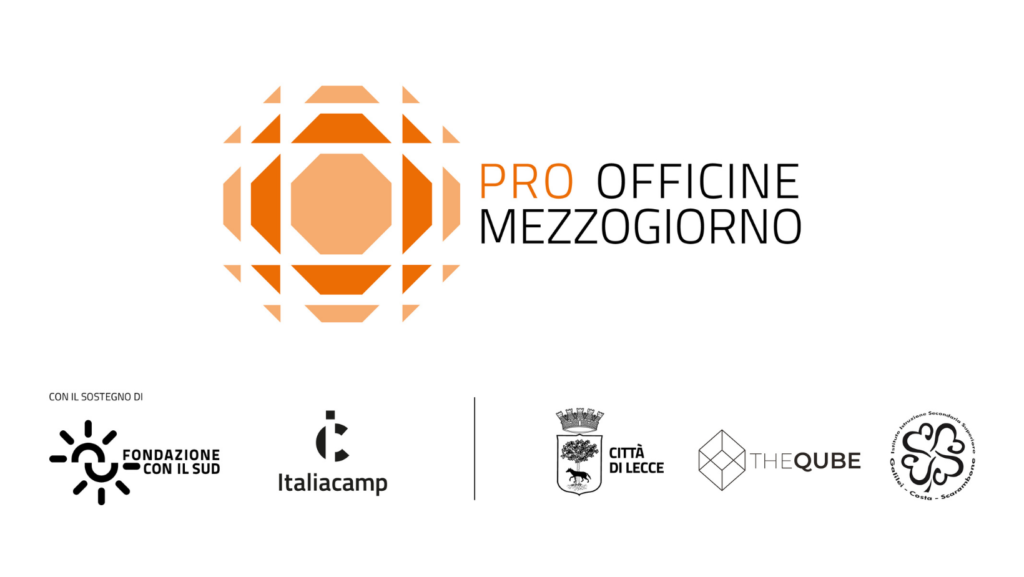 The Project 
Pro Officine Mezzogiorno is the social inclusion and regeneration project supported by the Fondazione CON IL SUD and Italiacamp and realised with the Municipality of Lecce, The Qube and the Galilei-Costa-Scarambone Higher Secondary Education Institute to develop education and innovation paths in the Lecce area from 2021 to 2024.
Education: experiential learning courses to stimulate young people to develop skills on new innovation and labour market trends and thus help reduce educational poverty and strengthen the educating community, not least through generational integration between parents and children. There are nine tracks over three years: Space Camp dedicated to the Space Economy, STEAM Camp on robotics, coding, augmented reality, STEAM Camp Family, to reduce the digital gap between parents and children.
Innovation: InCommunity is the acceleration and empowerment course for local Third Sector realities. The objective is to create a territorial network that supports the creation of partnerships in the field of innovation and social entrepreneurship. There are three paths over three years, each one dedicated to three start-ups. Twelve realities participated in the first call (2021-2022) and the following were selected for the acceleration programme: Movidabilia, Locomotive Jazz Festival and CulturAmbiente.
 The Connection Hub 
Pro Officine Mezzogiorno tests some of the training activities of the Officine Mezzogiorno hub – a hub for innovation and social regeneration designed within the framework of the Social Innovation Fund, the fund of the Presidency of the Council of Ministers aimed at strengthening the capacity of public administrations to implement social innovation interventions aimed at generating new solutions, models and approaches for the satisfaction of social needs, with the involvement of private sector actors.
In the Officine Mezzogiorno hub, social inclusion and innovation actions for young and very young people, advanced managerial training initiatives and digital manufacturing for start-ups and emerging SMEs will be developed in a synergetic manner, with the aim of responding to the social needs of the territory, generating positive impacts on the community that can be measured and assessed over time.
The hub will be born from the regeneration of a particularly evocative place: a bus workshop in front of Lecce station, a space that has always generated connections with the country but at the same time represents the starting point of the escape from the territory.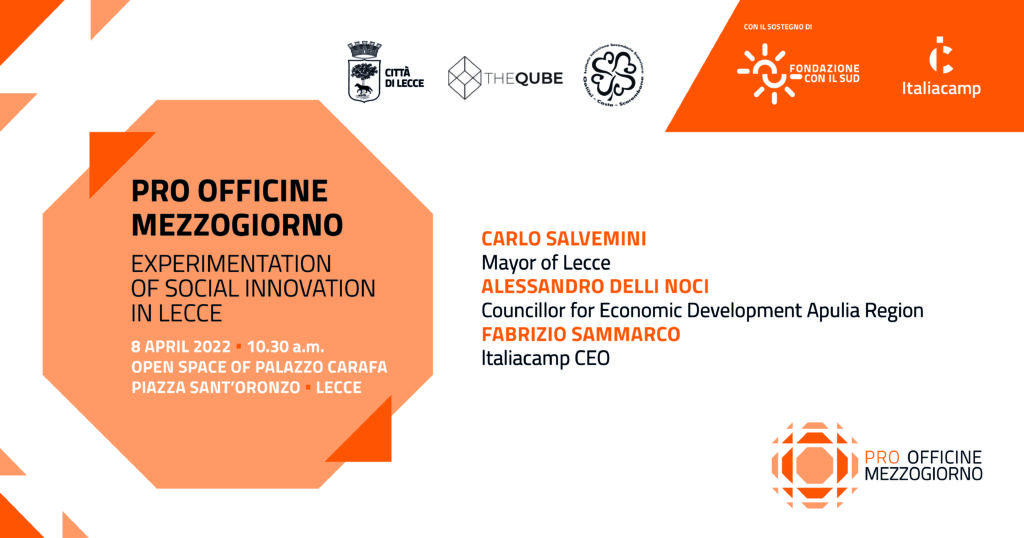 Press conference launching the project | Lecce 08 April 2022
Pro Officine Mezzogiorno has kicked off in Lecce: it offers young people cutting-edge courses on the space economy, coding, robotics, 3D printing and augmented reality, and acceleration services for local third-sector start-ups.