The GIIM kicks off activities with two calls on social impact and its measurement
With the event of 25 November at the Milano Luiss Hub, the activities of the GIIM – Governance Innovations Impact Management Observatory got started.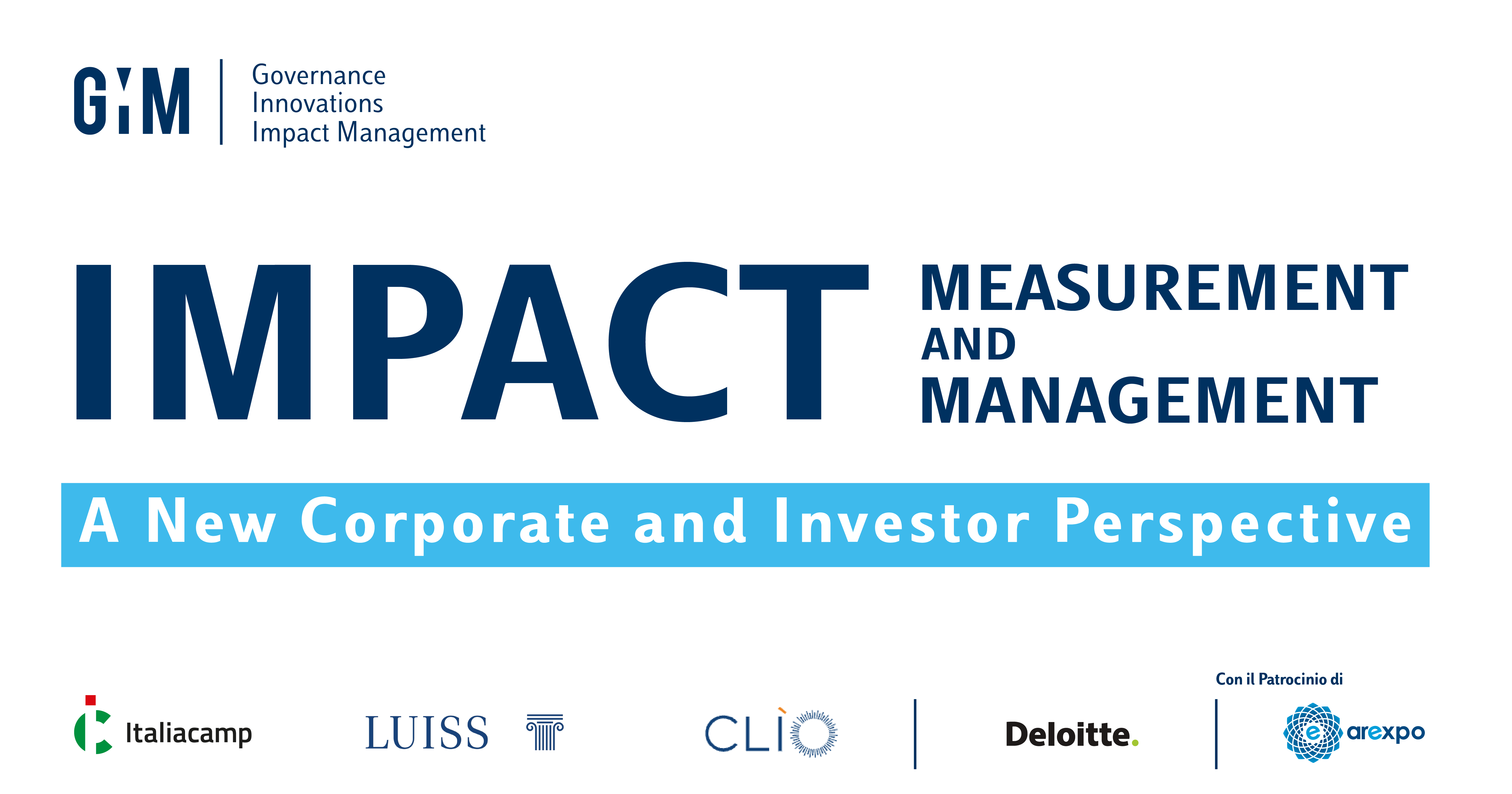 On Thursday 25 November, the Milano Luiss Hub hosted "Impact Measurement and Management – A New Corporate and Investor Perspective", a debate involving companies, investors and universities on what is needed to generate a positive impact on society, and how to measure it – with a logic that we also see applied with the PNRR(the Italian National Recovery and Resilience Plan). The panels pivoted on the need to go beyond sustainability to embrace social, and not just environmental, impact.
The event was coordinated by Elisabetta Pessano, Chief Communications Officer of Italiacamp, who pointed out that the location of the Milano Luiss Hub "Represents a concrete example of impact in Italiacamp style: a place created through a public-private partnership that has connected the Municipality of Milan, Fondazione Brodolini, Luiss University and Italiacamp, transforming an abandoned garage into a multifunctional and innovative hub." According to Fabrizio Sammarco – GIIM corporate coordinator, CEO of Italiacamp and Adjunct Professor at Luiss Guido Carli University, "This first GIIM public event aims to take stock of the situation between the public and private worlds, investors and corporations. With Italiacamp, we want to play the role that best suits us, that of connector." "Planning, managing, measuring and reporting impact is the challenge organisations face. It is time to move from Purpose to Impact," Cristiano Busco, scientific coordinator of GIIM and Full Professor of Accounting, Reporting & Sustainability at Luiss Business School and the University of Roehampton, said.
"The legitimacy – and more importantly the 'licence to operate' – of any organisation relies on its ability to create value for its stakeholders, as well as for society at large," Mr. Busco said. "We have now reached the point where investors and asset managers around the world clearly recognise that the way an organisation manages environmental, social and governance (ESG) issues contributes to its business and financial performance," he added.
During the first session of the event (From Purpose to Impact), Cristiano Busco spoke with Jed Emerson, Managing Director Global Lead Impact Investing Tiedemann Advisors and author of "Purpose of Capital", and R. Paul Herman, CEO and Founder of HIP Investor and editor of the "Global Handbook of Impact Investing", in which the chapter dedicated to Italian start-ups and impact investing was authored by the Italiacamp team. Mr. Emerson pointed out that there has been a lot of focus on metrics and definitions in impact investing, with little debate on the true value of purpose: "You do not get purpose by going on a week-long retreat or by writing something on a blackboard after a meeting and hanging it up in the lobby." Mr. Herman then focused on human capital: "The problem is that labour is considered a cost, so it is very important for an investor and entrepreneur to understand the value of human capital. One euro invested in an employee can yield more than one euro invested in products." According to Tjeerd Krumpelman, Global Head of Advisory, Reporting & Engagement at ABN AMRO Bank, "Everything should start with a purpose: to create a better banking system for future generations. Only a certain purpose – and a clear one – makes it possible to create suitable products."
Alessandro Rizzello, Adjunct Professor of Social & Sustainable Finance at the Magna Graecia University of Catanzaro, Italy, addressed the issue of uniformity of metrics in measuring and evaluating impact: "We are currently at a crossroads: does impact mean alignment with certain standards or does it mean following an additional logic? Several authors highlight the paradoxical element of an industry that relies on impact measurement and evaluation but does not recognise uniform models."
The topic of innovation was also central to the day's discussions. According to Antonio Solinas, CEO of Deloitte Financial Advisory, "In this delicate phase of recovery, it is essential for companies to have a remarkable ability to change and innovate. Not only pushing the accelerator to support growth, but also directing corporate strategies towards new operating models and new businesses to develop operations and thus boost the market." Francesco Checcacci, Partner Deloitte Financial Advisory, adds: "The long road ahead for companies involves long-term strategic planning. Investors will have to be able to support initiatives over this period, pursuing not only financial objectives, but also and above all environmental and social sustainability." Alberto Mina, Arexpo's Director of Institutional and International Relations, Communication and Marketing, also spoke on this subject, saying that "Innovation cannot be done on one's own, as by its very nature it needs a global network to be competitive. Often, it is not a result of a deliberate decision, but "by chance" instead – and one has to be good at understanding and exploiting that chance".
Costanza Consolandi, part of the GIIM scientific team and Associate Professor of Corporate Finance at the University of Siena, coordinated the panel devoted to investors' perspectives. The panelists included: Herman Bril, CEO of Arabesque Asset Management, for whom "Environmental performance determines greater reliability for investors because it defines greater production efficiency, which becomes an attractive element"; Alberto Matellán, Chief Economist of MAPFRE, according to whom "Even traditional finance can be innovated with new methodologies – created from scratch – through funds that aim to connect finance and relevant and very specific social problems"; Helen Chiappini, Senior Researcher at the G. D'Annunzio University, who presented the results of her research Do impact-leaders affect the strategy of social and environmental impact funds?, pointed out that the analysis of 120 fund managers, including some from ImpactAsset 50, showed that a large presence of impact-leaders determines a balance between financial and social returns; and Maria Teresa Zappia, Deputy CEO, Chief Impact & Blended Finance Officer at BlueOrchard, who, reiterating the concept of intentionality in generating impact, said that "There has been exponential growth in the impact investing market, especially on strategies that are based on a desire to achieve an impact but there is no impact measurement methodology."
Elisabetta Scognamiglio, head of the Italiacamp Communities Domain (centre of competence on Impact) and member of the GIIM, concluded the event: "The challenge of the GIIM is a paradigm shift: every person and every organisation must be willing to play its part." The two calls for universities and companies that inaugurate the activities of the research observatory are in line with this.
The first call for papers on "Accounting and reporting for social impact and corporate value creation" will be hosted by the prestigious Accounting, Auditing and Accountability Journal and will aim to analyse the relationship between corporate reporting and social impact assessment. Application window from 1 November to 31 December 2022. The second call is for the A new perspective on business and investment handbook, which will be published by Routledge and will collect a selection of best practices and impact stories from companies. These are the stages for the application: expression of interest by 31 January 2022, first draft 30 April 2022, submission of the final chapter 15 July with publication date in October 2022.