Giving Value to Value. The first Integrated Financial Report of Italiacamp
An overview of projects implemented, people met and results achieved in 2021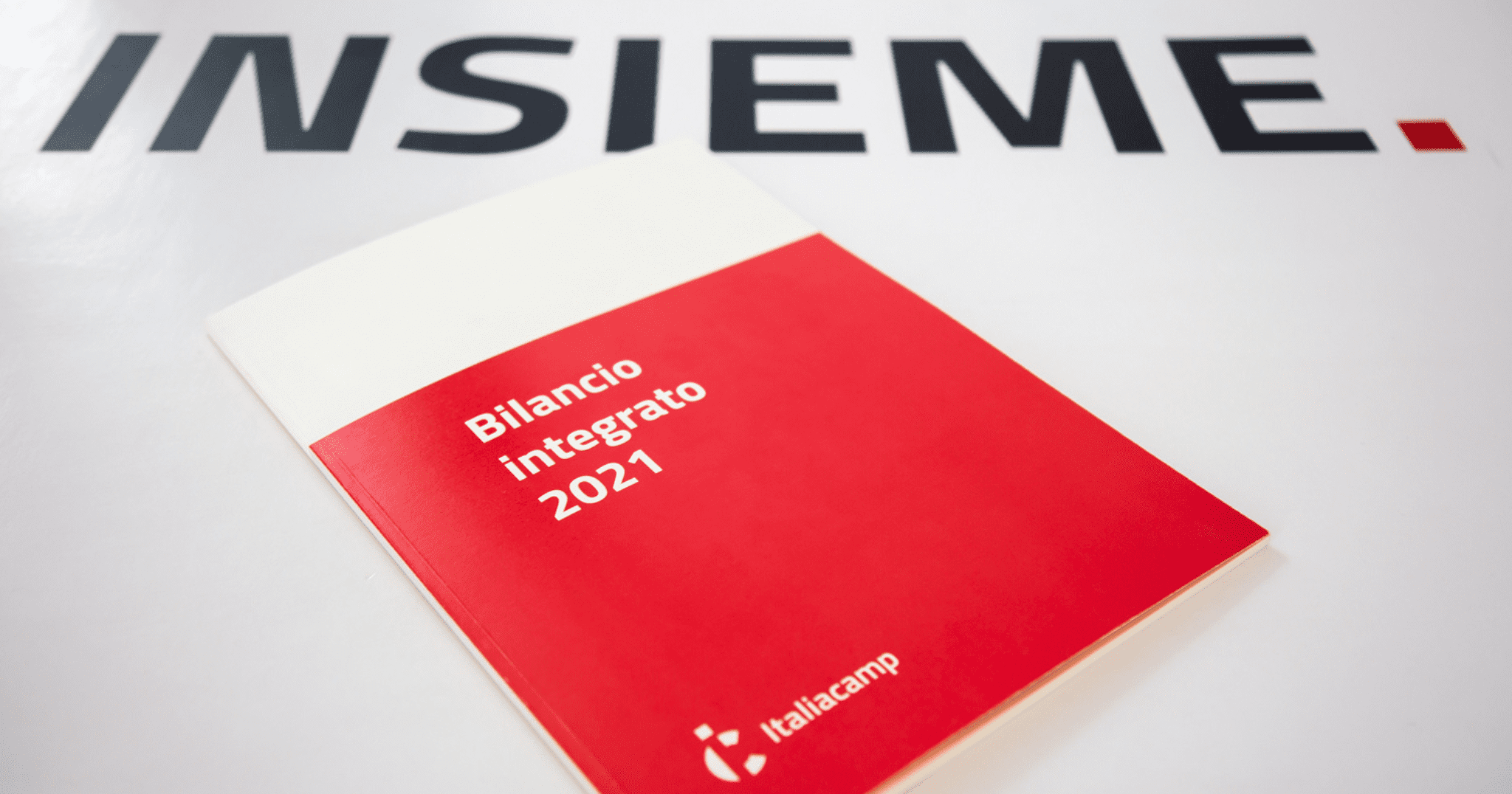 Here at Italiacamp we firmly believe that the effectiveness of organisational and economic action must be measured and oriented with the compass of social impact. Our first Integrated Financial Report was born from this conviction, together with the desire to anticipate the necessary evolution of reporting methods.
Assessing the impact means bringing out the social and economic value that an organisation is able to generate for the community: to do this, it is necessary to identify and validate specific measurement indicators with which to make tangible everything that until now appeared intangible.
Impact assessment, in fact, broadens the space of analysis to the generation of value both for shareholders and for people, territories and communities (i.e. the stakeholders). The classic tools of economic-financial reporting are thus integrated in an approach defined as bricolage, and developed by Italiacamp, which brings together in a standard analysis process the Integrated Reporting Framework (IR) principle, the Global Reporting Initiative (GRI) approach to sustainability and the SROI (Social Return on Investment) method for assessing social effects. This provides a qualitatively comprehensive view of the activities carried out in 2021.
Activities conceived, realised and conducted in synergy with partners and stakeholders: INSIEME ("Together") has always been the word at the centre of our actions, a synthesis of Italiacamp's purpose, a path that began over ten years ago and that still drives us today in promoting processes of transformation and social innovation that focus on people and their relations to generate new value, enabling connections between people, institutions and public and private organisations. It was the discussion with our stakeholders that brought to light how the ability to structure networks and connections between organisations, professionals and entities of different natures, together with the ability to activate synergies and effective collaborations, are the distinctive elements of our action.

 Putting values, human capital, knowledge and skills at the core to generate positive social and economic value is precisely what characterises Italiacamp's major projects. 
#Ricuciamo is the labour and social inclusion project that involved 62 inmates of the Bollate, Rebibbia and Salerno penitentiary institutes in the industrial production of 8.2 million masks. The production covered the prison needs during the Covid-19 emergency, saving public money and benefiting the community through the inmates' social and work inclusion.
In 2021, the commitment to Southern Italy included significant project sites launched in the south of the country, such as Officine Mezzogiorno, which will lead to the construction of a social innovation hub dedicated to young people and businesses in the Lecce area. The set of projects carried out by Italiacamp has conveyed a total value of over EUR 3 million in the South.
Through this tailored commitment of caring for relations and network development, Italiacamp has come to have a network of more than 180 stakeholders in 2021 that has fuelled exchanges or collaborations worth EUR 8.9 million. A measure of a path that returns value to members, reference territories, communities and the country, and that has generated EUR 8.5 million of direct, indirect and induced economic impact and EUR 13.7 million of overall social impact.  
The drafted document is thus an exercise in evaluating the near past, tracing and committing our near future, marking a line that will be the point from which to start and build again, INSIEME. 
"What's past is prologue"
Shakespeare
The Tempest, Act II