Social Football Summit 2021
Italiacamp: "Best practices are a reality, the challenge is to incorporate impact into business strategies"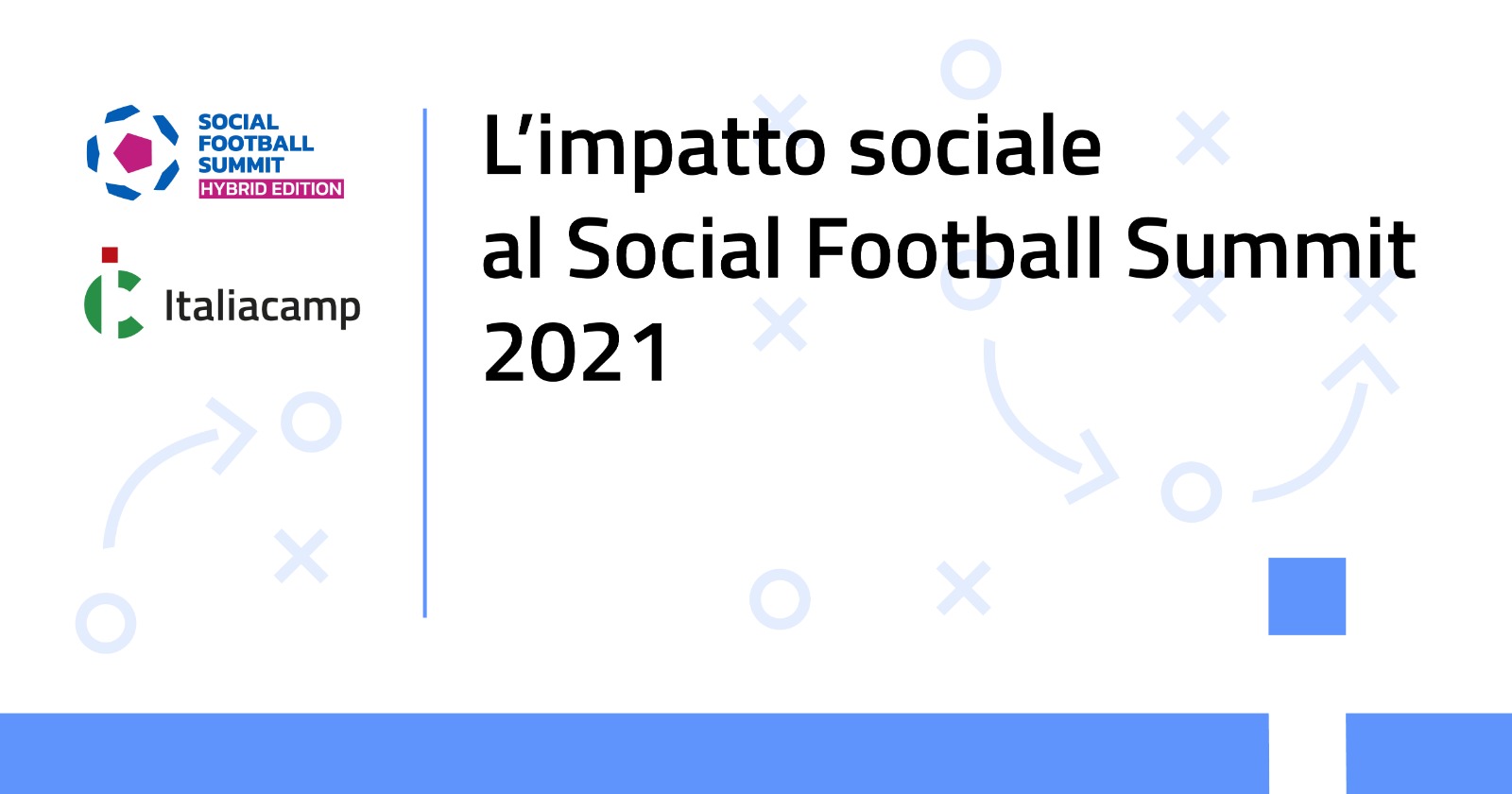 What does it actually mean to talk about the social impact of football clubs? This is the question Italiacamp followed at the Social Football Summit, where it curated the panel "Sport and Impact Innovation" and the Impact Rooms, two moments of in-depth analysis and debate dedicated to these issues. 
Many concrete examples come from Italian teams. From Atalanta, with its large investment in a youth sector known throughout Europe, to AS Roma, which in addition to the social responsibility actions carried out during the pandemic – such as the delivery of meals to the needy or the distribution of masks – has launched specific social impact activities with Italiacamp, such as training courses for young people and higher education in collaboration with the Luiss Business School. Udinese is also active in the field: with the green energy company Bluenergy, it has zeroed the environmental impact of its stadium through economic compensation for emissions. The role of sports infrastructures in generating social impact is also crucial. According to an estimate by Monitor Deloitte, over the next 10 years the potential for investment in stadiums in Italy is approximately 4.5 billion Euro, with significant economic and social benefits worth up to 50,000 new jobs, 3.1 billion Euro in new tax revenue for the State, 25.5 billion Euro in new business for the football sector and others indirectly related, as well as the revitalisation of cities in terms of urban regeneration.
"Best practices that are no longer isolated activities or just communication activities," Elisabetta Scognamiglio, Head of Communities Domain at Italiacamp, said. "Clubs have always been social platforms that generate value for the local area. This paradigm shift would not be an end in itself," Ms. Scognamiglio continued, "but it would allow the company to increase its chances of raising capital, for example from those funds that are looking for that specific type of social impact investment."
As Mario Calderini, Full Professor at the Milan Polytechnic, says, "It is a question of playing the second half of the game" because social impact cannot be simplified in the positive outcomes of actions put in place but must be an ex-ante project, i.e. intentionally generated by businesses.
Once this step is understood, a reference framework is needed to measure the impact generated; impact metrics must be found for those who, like the players in the world of sport in general, and football in particular, are naturally inclined to generate it. The challenge for the future of the sector will therefore be to build a shared methodology that can have a systemic projection.
Panel Sport e Impact Innovation [15.11]
Leo Cisotta Marketing & Business Development Director Italiacamp
Guido Fienga

Board Member Italiacamp

Francesco Pastorella, Director Roma Department AS Roma
Stefano Luperto Head of Marketing and Communication Bluenergy
Elisa Persico Head of Marketing Atalanta BC
Impact Management for Social Football Value – Focus on Evaluation [16.11 h11:00]
Coordinated by the journalist Simone Cosimi. Elisabetta Scognamiglio, Head of Communities Italiacamp, introduced the event. Participants included:
Mario Calderini Full Professor Politecnico di Milano
Francesco Checcacci Partner Deloitte Financial Advisory
Niccolò Donna

Head of FIGC Research Centre

Gian Paolo Montali Ryder Cup 2022 

General Manager

Paolo Del Bene

Director Luiss Sports Association
Impact Management for Social Football Value – Focus on Strategy [16.11 h15:30]
Coordinated by the journalist Simone Cosimi. Elisabetta Scognamiglio, Head of Communities Italiacamp, introduced the event. Participants included:
Andrea Abodi

, Chairman Istituto Credito Sportivo

Luigi Capitanio

,

 

Partner Monitor Deloitte

Andrea Fabbricini

, Marketing Manager AS Roma

Marco Francesco Mazzù

, Professor of Practice Luiss Business School