The award to bring out and develop innovative solutions for women's health
An initiative by Susan G. Komen Italia and ItaliaCamp, in collaboration with the Women's and Children's Health Sciences Cluster of the Fondazione Policlinico Universitario Gemelli in Rome, to promote the emergence, dissemination and valorisation of innovative projects and practices in the field of women's health.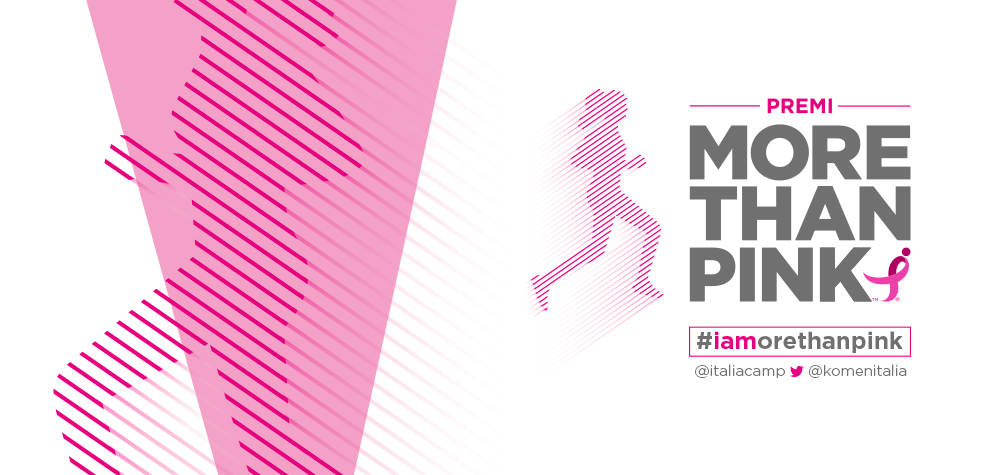 More Than Pink was a project developed over two editions, through which some 300 innovative ideas and projects on the theme of women's health were collected.
Universities, research centres and start-ups throughout Italy were involved through calls on topics that ranged from the use of new technologies to corporate welfare and the 8 stages of a road show: a great movement of emerging innovation that led to the winning of cash prizes and in tutoring and mentoring services of up to EUR 30,000. The services were provided by a network of stakeholders from the world of institutions, companies, hospitals, local health authorities, universities, foundations and associations that chose to collaborate on the award.
The project was sponsored by the Ministry of Health and the Istituto Superiore di Sanità (National Institute of Health).
The 2017/2018 Winning Projects
Innovative Services and Technologies
The 3Tx3N project, a tangible example of public-private synergy based on the interaction between three teams working in genomics, clinical research and molecular oncology comes from the need for a tool to improve the diagnosis and treatment of triple-negative breast cancer.
The project was set up to complete a system of intervention and support dedicated to mothers with children in situations of serious difficulty through a complete take-over of the woman and her children: from the acute phase of need, up to autonomy, passing through reception and care.
Responding to the needs of the 9 million caregivers in Italy who are forced to give up work to care for a family member, this tool offers social and care services via a digital platform with a full range of training sessions and a dedicated telephone contact centre.
A software application that can be integrated into emerging devices for combined maternal/fetal monitoring close to delivery. The system is able to generate alarm signals transmitted in real time to other units (e.g. tablets, smartphones) for subsequent follow-up visits.
Italy's first online video-interpreting service in speech and sign language via app and web. It supports public administrations, health facilities, SPRAR, social cooperatives in multilingual interviews, with a professional interpreter on video call just a click away for health emergencies, medical examinations, info points.
Piccoli spazi di felicità
Micro-architectural intervention to create spaces with different functionalities and dimensions at the end of hospital corridors: often unused places that, through the arrangement of vertical planes, can be transformed by the community living there into social and creative spaces for playing, reading and relaxing.